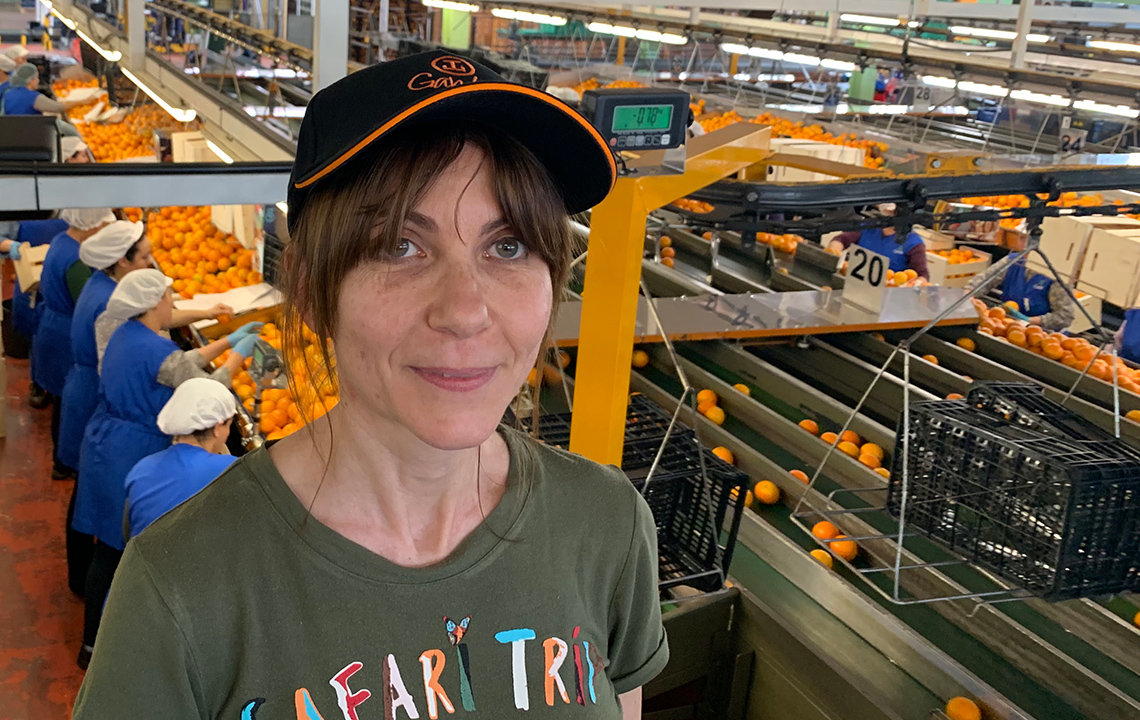 "At GAMBÍN we improve the quality of the Fruit that is delivered to the client through selection"
Her eyes glow when talking about Gambin and for a reason; Carolina, Carol as everybody knows her in the company, does not only wear the family's surname, she has also forged, both professionally and personally, the packing station in Cox.
Her profound knowledge of fruit has brought her to supervise the packing line, where she is in charge, together with her team, to select the optimum quality demanded by each client.
Can we say that your life is intrinsically bound to the company GAMBÍN…?
Without any doubt. I started over 20 years ago procuring the National Spanish market, doing tasking related to weighing goods. From there on, I practically engaged in everything else, whilst learning about the job. I gradually enhanced my participation in citrus and that is what I finally focussed on, evolving personally and professionally at the same pace as the company did.
How must we understand a packing line at that time, and how are packing lines nowadays?
Back then, packing lines were fairly basic. We packed fruit in one single type of box or just poured them into crates as loose goods. There were not a lot of packing specialities as there are today. We learned gradually to pack in different box sizes because someone asked for specific packaging. At that time, we were already concentrating on evolving towards what the client required.
And this is still so, isn't it?
Yes, of course. We constantly think everything has already been invented, but we are wrong. There are always new possibilities emerging and therefore we need to search for a way to adapt to what the client requests. This is what Gambín achieves to perfection. It is one of our distinctive traits to deliver and meet requirements, and, by doing so, we endorse the main reason why most of our clients choose to work with us.
And how do you manage it?
You have to interconnect multiple issues. You have to combine knowledge with a particular work ethic, and with a 'genetic factor' that is present in all the Gambín family members, clearly directed on satisfying the client. Every one of us knows what the client asks for, and we are here to serve in accordance to that goal. It is the reason why the entire company is fully implicated. From the managing board, through the intermediate managing staff down to the operations personnel, everyone is aligned to that purpose.
What is your main mission as Chief Packing Station Supervisor?
My main job is to secure that we fulfil the plan we agree upon on a day-to-day basis. At daily meetings we program the workload, taking into consideration for example holidays or weather conditions, as the company never really interrupts its activity 100%. You have to consider that we are talking about a sector that has to contemplate the many different topics when engaged with agriculture. These random factors are in constant movement and might jeopardize the outcome of our efforts. Therefore, we try our best at avoiding matters that could endanger the result of our work.
As such, this situation restrains you work?
Of course. We are not talking about a product manufactured in series. You think you will receive a fixed amount of product under certain conditions, but there will always exist a variation of some kind. Sometimes it is of little importance to the final result, but in some occasions there is a considerable divergence.
We will always try our best to avoid most of the alterations and reduce them to a minimum impact. In the end, our job is to work with variations and adapt any circumstance to preserve the main goal: to meet our clients' requests.
How is your area organized?
I work with a team that controls the packing line, the overall packing process, giving them indications on how they must understand and manage the production plan. I instruct them on general needs and possible variations in order to meet what has been established according to our production strategy. I supervise a total of 68 people who work in shifts. There are 4 direct Packing Supervisors and 2 Heads of packing lines, who etablish the production rhythm and complete orders, including modifications or last minute adjustments, etc. Everything is commonly agreed upon, and we never take a decision that might affect the client without approving it first within our team.
How has your job evolved since you started at GAMBÍN?
You could say that nowadays it doesn't have anything to do with what I did in the early days. Without any doubt, one of the most prominent changes has been the introduction of a sorting machine that allows fruit to be selected according to established quality patterns. It can be set to discard pieces according to size, coloration, etc. Through photocells, which take around 50 photograms per second, and the parametrised quality measurement standards, the machine tosses the fruit onto its corresponding tracks. This occurs in one single 'trip' and, by doing so, we avoid that the fruit is tossed around too much. This single process respects the fruit's consistency, avoids bruising and enhances its quality, as it suffers less handling and sees its overall condition preserved.
We are talking about an important evolution of a technical kind…
Indeed, although this has transpired to the entire fruit processing, from the packing station to the fields. A technical evolution cannot only happen in the warehouse; it must also affect the entire agricultural process accordingly. At this moment, we are able to translate our immediate necessities to the crops. In the past, we usually harvested an entire field at the same time it was purchased. Now, we can process just the right amount of fruit and therefore the harvesting teams can organize themselves accordingly, making the whole process more efficient, reducing costs at the same time.
How do you maintain a leading position on the market?
You must put your maximum effort in each box. You have to care for your client. He is the one who orders and commands. We adjust to our clients and to the markets at any time. It is a team effort, and we are all aware of the fact that if we want to deliver quality and secure goods, we have to do our very best.
'work' and 'team' our repeated continuously in your answers.
Certainly! I work with people who are with me for over a decade. This is most important. I teach them what it means to have a company and therefore explain them at all times what kind of fruit they have to put in the boxes. Our task is to maintain high quality standards and assure that the client receives but the best fruit, enriching its quality through an exhaustive selection process. In order to reach this goal, having a good team is essential.
What does GAMBÍN mean to you?
Everything! I have grown professionally here. I practically started as a young girl. I lived through hard times and now I can experience the better ones. It gives me great satisfaction to see what we have accomplished and the course this company is taking. I can even see us changing this fruit business. There has been a lot of work behind the scenes in order to achieve this moment. We have been working for a great number of clients in different locations, being at their service, giving them what they needed… You cannot build something like that in one day. We did not deliver what we are capable of today with our first box of lemons. It is a harsh labour, a minute to minute job. When I look back at the past, I feel proud of what we have achieved and of where we are at now.