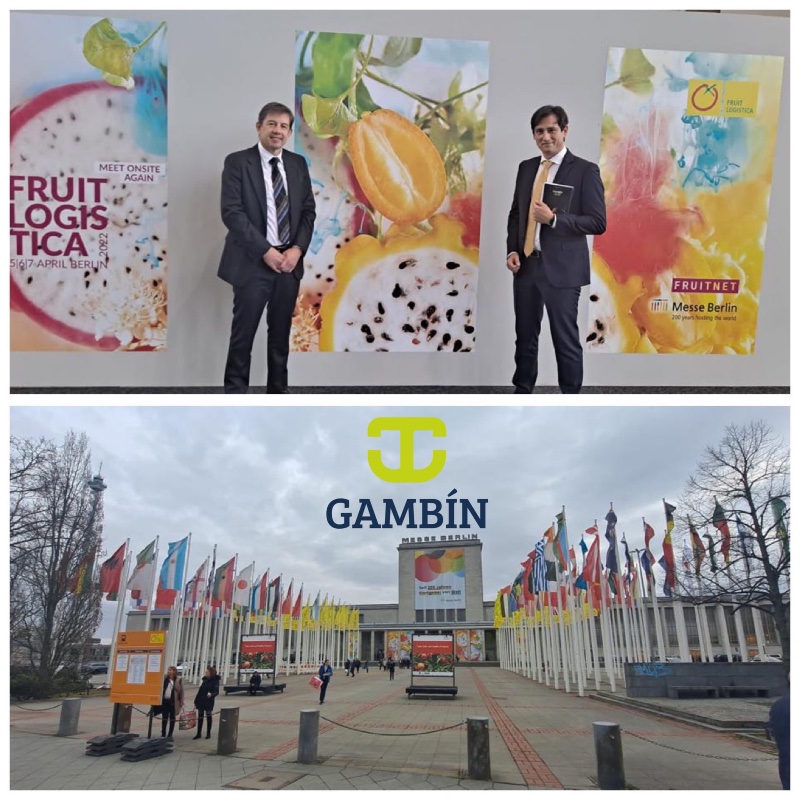 40,000 industry visitors at the comeback of Fruit Logistica 2022
Fruit Logistica Berlin, one of the leading trade fairs for the horticultural sector, took place in April as usual after two years. Restrictions due to the pandemic forced the suspension of its 2021 edition, as well as the postponement of the dates for this year's edition due to the surge of cases at the beginning of the year.
However, despite the delay in the calendar, more than 2,000 exhibitors from all over the world came to show their services and products to the more than 40,000 visitors, including a delegation from GRUPO GAMBÍN. Our company, which produces, packs and distributes citrus fruit from our operational headquarters in Cox (Alicante), and which also operates a business branch in the Canary Islands aimed at importing mixed fruit, took the opportunity to keep abreast of the latest developments in the sector. At the same time, we used the occasion to hold monitoring and planning meetings with our clients. Although it is true that information technology has made it possible to manage distribution programmes remotely, the occasional face-to-face meetings are of great importance to enrich the relationship between suppliers and clients.
In terms of the overall evaluation of the fair, the organisers provided more than satisfactory conclusions. "It seems as if there had never been a pandemic, and the results have been very positive from the attendees and exhibitors in the surveys we have carried out". According to Fruit Logistica Berlin, more than 40% of the attendees claim to have made successful business deals during the event. Moreover, four out of five of them expect that many of these talks will eventually lead to positive agreements.
Not only that. More than 80% have already declared that they will be attending Fruit Logistica Berlin next year, fully confident that the pandemic will be completely overcome by then. An appointment that GRUPO GAMBÍN has already marked in its calendar to return with its own stand and that, as the organisation has already stated, will take place from the 8th to the 10th February, as usual.