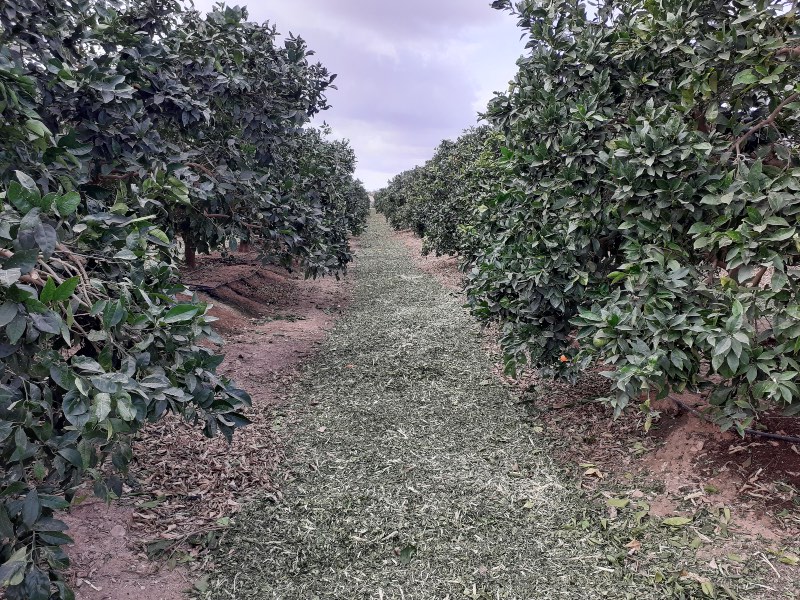 The technique of using pruning waste as an organic mulch
At GAMBÍN we combine the latest agricultural techniques with traditional and proven cultural practices for a single purpose: to guarantee the best quality of our citrus fruits, while practising sustainable agriculture that respects the environment. This is how we guarantee the endurance of our crops, allowing us to continue offering fruit of the highest quality.
Among the many techniques that our qualified and experienced agricultural specialists develop, supervise and implement, there is the mulching technique using pruning waste mulch on the ground.
Citrus pruning is a cultivation technique carried out annually that generates a large amount of plant biomass. The contribution of citrus pruning waste to the soil, once the wood has been shredded using mechanised elements, generates an improvement in some soil characteristics, especially the content of organic matter, biological activity, and assimilable phosphorus, potassium and magnesium.
The continued maintenance of a cover of citrus pruning waste for years, in addition to protecting the soil against erosion and desiccation and partially replenishing nutrient extraction, causes physical and chemical changes in the soil, showing increases in the percentage of organic matter as well as in the concentrations of macroelements.
This is very positive for the quality of our citrus trees, which harvest after harvest produce fruit and develop in optimum conditions, something that is highly valued by national and international markets, as demonstrated by the presence of the different GAMBÍN citrus brands in numerous countries.