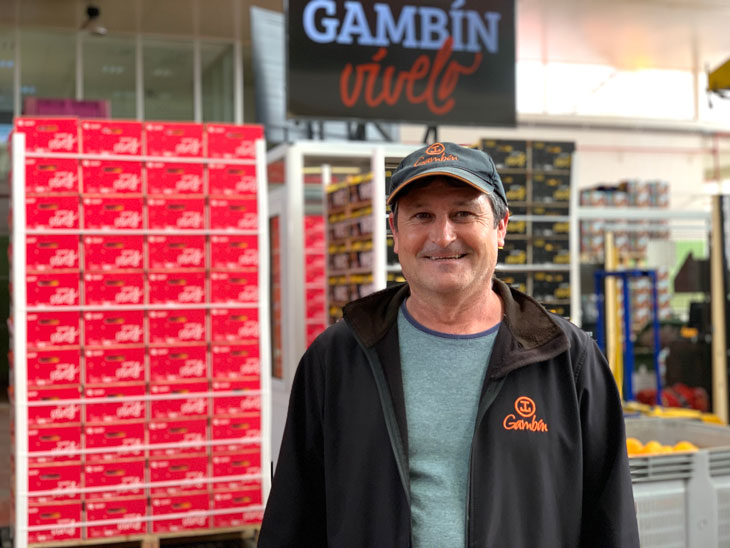 "In warehouse work, good communication is key to make everything work"
His knowledge of the fruit world is absolute. This is not surprising after a whole life dedicated to it, performing the most diverse tasks that can be imagined. A career path that has provided Ángel Jesús Pelegrín Pérez with an overall perception of the citrus world which he is now putting into practice as Warehouse Manager for GAMBÍN, a company in which he will soon be celebrating 21 years of experience and of which he is a fundamental part.
How were your first steps in GAMBÍN?
Well, it was around the year 2000. I came from the world of street vending, a very particular world from which I learned many things about fruit and its environment. I had never worked in a warehouse before, but I was given the opportunity to work here and that's how I started. This allowed me to get to know the industry from another point of view, different from the one I used to have until then. I started off doing packaging work and little by little I acquired further knowledge and did other jobs, such as carrying the forklift or supplying the packaging machines with product.
You took several different roles…
Yes, because then I also moved on to the raw material area of the citrus field: lemon, orange and tangerine. For five years I was in charge of receiving the lorries that arrived from the farms, dipping them in the drencher, positioning and controlling them for drying.
What did all this experience allow you to do?
Learning every day a little more within the same company and having the opportunity of being appointed Warehouse Manager. That is the work I have been doing for about six years now and which consists of complying with the protocols and standards set out in the work plans. Making sure that the citrus fruit is well positioned in the chambers and that there is never a lack of product on the production line. This is one of the fundamental things in order to avoid wasting time and for our work to be efficient. And, of course, that all the product pallets are correct and organized as they should be.
How is the work organized to make all this happen?
Every day we carry out a joint plan with all the information available from the different departments and areas: production, logistics, sales, etc. We are always striving to ensure that everything runs smoothly. Either in the tipping, or in the packaging and palletizing. In addition, we pay a lot of attention to the revision of the labelling, as well as to the positioning of the product in the cooling storage units.
What do you think is the most important thing about this work?
Comunication. That's the most important thing. By communicating with each other, we're always one step ahead. If you go behind, you stumble a lot. This communication is mainly maintained with the sales team, which gives us detailed and instant information about the progress of the orders and the customer's needs.
What role does the newly installed Digital Signage System play in displaying real-time information on KPI's?
The screens help us a lot because thus we have the most important parameters at the moment and we know how each line and even each person is working. It is very helpful because we now have a clearer insight into what is happening in each area of the facility and we can take decisions about it.
What does it mean to you to have been in GAMBÍN for so many years?
For me GAMBÍN is an essential part of my life. When I first came in, there weren't more than ten of us working. Now, we are more than 400 people, but we still maintain that family spirit and direct contact with both colleagues and owners.
You've experienced the evolution of the company personally...
Yes. It's been a great evolution. At the beginning we stumbled a lot, so in order to get to where we are now, we have had to fight hard, making GAMBÍN's packaging and quality a reference in the markets. Furthermore, we have managed to carry out our work more efficiently. Both in terms of the final product and the resources we use. We have optimised our shifts efficiently and this is something that our employees appreciate.
Because you come from the sales world, what do you think sets the product GAMBÍN apart?
The quality. The product in each box of any of the brands. It makes a big difference, and it is something that professionals in the markets and consumers recognise. The detail with which we take care of the fruit and how it reaches its destination doesn't go unnoticed.