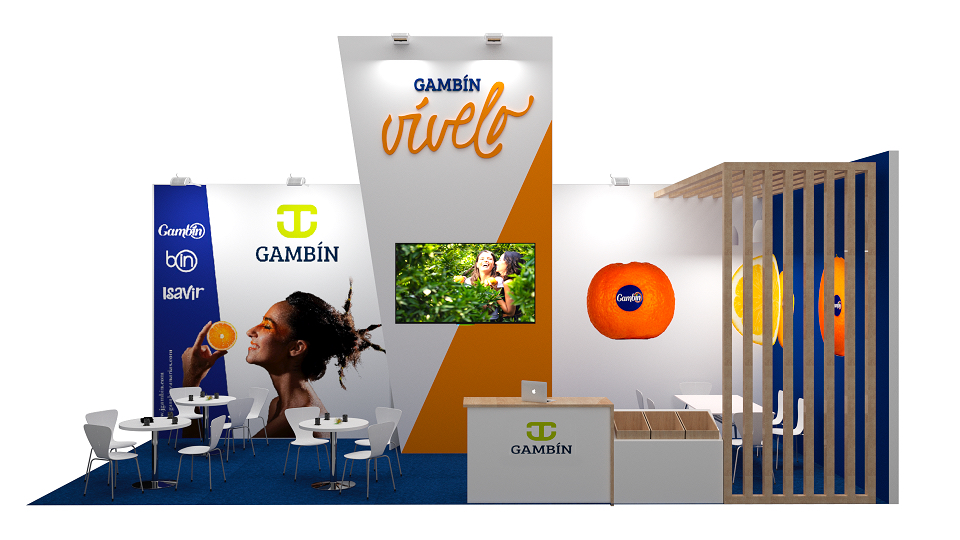 A stand for everyone at Fruit Attraction 2021 - Madrid
A comfortable meeting place that is also suitable for holding productive meetings with customers, suppliers and partners in order to organise the recently started Spanish citrus season.
This is how the GAMBÍN stand at Fruit Attraction 2021 has been designed. Located in the same place as in previous editions, right in the intersecting corridor between two of the busiest halls, the installation will be highly visible to all visitors to the fair.
We wanted to remain faithful to our corporate identity, which is reflected in the colours and the different graphic elements, but this year we have introduced some important new features. For example, greater importance has been given to the display of the product both on the vinyl panels and in the exhibition itself. This is a more immediate way for consumers who might be less familiar with the company, but who are looking for reliable citrus fruit suppliers, to identify the company.
Constant information and communication will once again play a key role. Two years ago (when the last international fruit fair was held in Madrid due to the cancellation of the 2020 fair because of Covid-19), GAMBÍN already set the trend with its Digital Signage System and the real-time content update. On this occasion, the company is going a step further by integrating a large-format screen into the structure of our website.
In this way, all those attending the event will be able to receive all kinds of information about the company's activity: from processes and operations in the field, packaging plant, logistics and staff to, of course, details about the different products and brands in our extensive catalogue of references.
In addition, two different meeting areas have been set up with a dual purpose: to adapt to each type of meeting and its participants, as well as to maximise security measures in the face of the still latent threat of Covid-19.
GAMBÍN will be located in Hall 3 - Stand 3F01B and it is possible to arrange an appointment with any of its members either through the contact form on the website www.jgambin.com or through the Live Connect platform provided by IFEMA for participants in the fair.