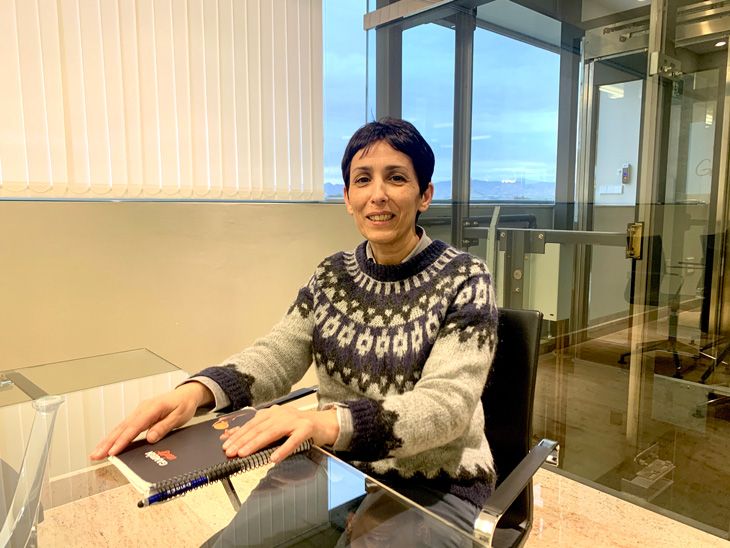 "I'VE CRIED A LOT, BUT I'VE ALSO LAUGHED AT GAMBÍN"
Her name is María Rufete Cruz but her peers know her as Marlen, a nod to her birthplace. This is how everybody knows her at GAMBÍN, although it would be more accurate to say the opposite: it is she who knows each and every person who is or has been part of the company. Thirty years after she joined the staff –with a 1995-2001 maternity leave-, there is no corner of our Cox facilities that keeps secrets for her.
Hers is a story of personal and professional growth within the company, a story of personal enrichment reflected on anyone that has had the pleasure of working with her. "I started working at GAMBÍN when I was 17 years old and my task was to clean and pack. Until one day I got offered a job in what back then was the sales department. At that time there were no exports, everything was national or local markets", she says. She remembers that period as "a very hard time, because I couldn´t handle it very well. I was rather shy, but with patience, dedication and loads of hours I managed to learn", she says. She then worked as the fruit warehouse manager, market supervisor and cash manager, among other positions.
FROM CLEANER TO EXPORTS SALES REPRESENTATIVE.
Her progression was so noticeable that, when the company turned considerably towards the exports market in 2012, she became part of the team in charge of international marketing. A team that is currently made up of three members: herself, Fran and Joaquín.
Looking back and thinking about her progression within GAMBÍN, she feels proud. "It is a great satisfaction that the owners have trusted me, keep working in the company and to have evolved in this way", she says. The efforts, she adds, have been rewarded. Although she reckons that nothing would have been possible without the philosophy of her superiors. "Pepe Gambín is much more than a General Manager. He teaches and corrects, but he is also the one that carries the weight of the company. This makes an employee feel supported, and not see him as a boss, because he leads by example", she says.
MOTIVATED BY CONSTANT EVOLUTION
Marlen considers that this is one of the differential features that place the company as a local benchmark. "The opportunities to evolve given to the employees, the way they are treated, cared for, and the facilities and security provided by the company, is something to take into account" she says.
She admits to having cried in GAMBÍN, but also to having laughed a lot. "It feels like home, my family. With families you laugh and cry", she says. As for the future, it is clear to her: "I see myself keeping improving, evolving. Day by day self-improvement is a constant in the company and that is what we all aim for. Here it is easy to feel valued. And the best thing is that you don´t have to ask for it, it is the company that acknowledges it. That is why motivation is greater", she concludes.